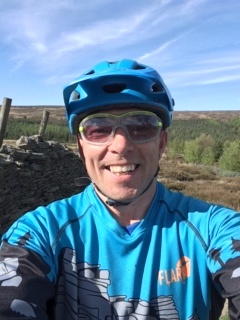 Name
Jason Budd AKA Ride Holme
Age
47
What's your favourite trail, ride or event? (or all three!)
Favourite trail
There are some great trails in the Peak, WLT and Bradwell Edge have to go on the list. If I was to pick an area I'd Iike to go back to it would be the Quantocks. For such a small area the trails are superb.
Favourite Ride
Riding from the Dales Bike Centre in Reeth to Cafe Adventure in Hope, over August Bank Holiday 2018, raising money for the Cutgate appeal.
Favourite Event
Although I haven't plucked up the courage to enter, it has to be the Steel City Downhill.
For one day in May, Grenoside Woods turns into the equivalent of a World Cup Downhill event. The atmosphere is electric no matter what the weather. It doesn't get called the Biggest Little Race for nothing.
What's your favourite bike of all time?
If I could get one bike back it would be my MRD Racing (Tim March) BMX. The welding and the chrome finish was a thing of beauty. I traded it in for my first mountain bike back in 88. Although I think Tim March is currently working on building the frames again so who knows I might just have a chance of owning one again.
If I could have any bike (money no object) it would be the Hope HB160, although I'm riding the HB130 at this years (2019) PrePeaks and that might sway me towards a short travel 29er.
What's your current bike?

I'm currently riding a Cotic Rocket 27.5 (non longshot).
I'm also about to pick up an 18 Bikes No 7. It's been a bit of a dream of mine to own a hand built bike, so to get one made by Matt in Sheffield is just brilliant, and look at that headbadge, it's got to be the best in the business.
What's the best innovation in bikes or bike related stuff in the past 10 years?

Geometry, probably more evolution than innovation but look how far bike design has come, even in the last 5 years let alone 10.
No longer road bikes with beefed up frames and wider tyres (aren't they now gravel bikes?)  
Modern trails bikes with more travel than the old Downhill bikes and yet capable of climbing steep technical terrain. 
Hardtails that beg to be ridden hard over terrain that wouldn't  have been possible without trial skills of Chris Akrigg.
Why do you ride?

I've ridden bikes for as long as I can remember, riding with my mates on our Grifters and Choppers to jumping and racing BMX's back in the 80's. So I could say it's that feeling of never growing old. There's also that feeling of (I can think of no better word) freedom, the simple act of turning the pedals and heading off. Whether it be a short 1hr blast or a multi day trip, nothing clears my head better than riding my bike.
You can find Jason on Instagram @RideHolme